Working from home. More and more people are working from home. The importance of an ergonomically sound workstation is often underestimated.
We can help you select the right products for home workstations. We have compiled 3 packages to make it easy for you.
Unable to manage? Or looking for a different solution? Then contact us!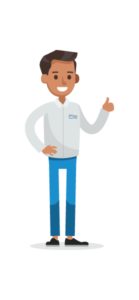 10 productivity tips for home workers.
Working from home has become increasingly popular in recent years. The number of home workers is only increasing under current circumstances.
However, working from home does present some challenges. It is easier to retreat to an empty room or office at the office. At home, you are often tied to that one workspace you have selected for that purpose. So to be able to work from home comfortably and to be at least as productive as at the office, you need to meet a number of preconditions effectively.
Whether you work from home structurally or only once every so often, a person-oriented home workstation is a condition for structurally healthy and comfortable DSE working. We would be delighted to assist you with a number of tips for working from home comfortably and productively.
1. Start and end your day at set times
If you maintain a fixed pattern in terms of start and finish times, you get far more done in those hours. When you work at the office, your family and friends respect the fact you are busy working. They are then less likely to disturb you. When you work from home, they suddenly turn up at your door, or expect you to run an errand, for example, because you are working from home anyway. So be aware of how much time can be lost on such matters in a day. It is important to set boundaries when necessary. You can only ask people to respect your time if you respect and safeguard your time yourself.
2. Ensure you have your own workstation
Choose a room in your house in which to work and make that your own workspace. Teach your family members that- when you sitting in this place- you would rather not be disturbed. Working on the sofa or at a rickety kitchen table is bad for your body and makes it difficult for you to concentrate. Unsure how to set up your workstation properly? See tip 3 or contact us, we would be delighted to assist you with this!
3. The importance of mental and physical exercise
Your employer attaches great importance to healthy, as well as productive employees who carry out their work sustainably and thus improve their performance structurally. Sufficient mental and physical exercise demonstrably contributes to this sustainable improvement of performance, as does the viewing height of your computer screens! A good monitor arm adjusted to the correct height promotes concentrated DSE working. Can we help you with this? Don't hesitate to contact our ergonomics specialists for the right advice!
4. Work with the aid of the appropriate ergonomic accessories
An ergonomic chair and sit-stand desk offers you the appropriate level of comfort and the ability to alternate between standing and sitting. Regular mental and physical exercise (even if you do not have a sit-stand desk) during DSE work are prerequisites for finishing your day feeling energized.
In addition, the following accessories are essential for a good home workstation:
Electrification that is safe on your desk and so you do not have cables trailing all over the ground that you or your family members could trip over.
Lighting so you are less likely to get 'square-eyes'.
CPU holders so you create a tidy workstation for a clear head while working.
Working usually requires good concentration. Whether you work from home or the office. Ensure potential distractions do not break your concentration.
Amongst others, ensure that you:
Put your smartphone away while working;
Switch off email notifications on your smartphone, tablet, laptop, or desktop for minimal distraction;
Create a quiet working environment. Preferably no music, or only playing very softly in the background;
Use the Pomodoro technique to get your time management in order;
You are refreshed and well rested when you start work;
You ignore or switch off your newsflashes for a while.
6. Make a list of the things you need to do every day
Start the day with a list of what you want to do that day. It is even better to apply the Getting Things Done method to ensure your to-do list is updated daily. If you are not sure what you need to do that day, it is very tempting to do nothing at all. In any case, decide what larger tasks you want to complete in a day. The smaller tasks can be done when time permits.
7. Limit the amount of time you spend on a particular task
People are easily distracted nowadays, especially when you have a task that involves a big challenge or is a little boring. If you catch yourself daydreaming, force yourself to work on the task in blocks of 10 or 15 minutes, or use the Pomodoro technique. The fact you build an end point in somewhere can give you renewed energy. In the worst case scenario, you stop daydreaming and continue with a different task. You can always return to the task with which you were busy later when you feel a little better.
8. Take enough recovery breaks
The fact you work from home does not mean you should have no pit stops. Take a short walk, grab a cup of coffee, watch the news briefly, or have an unrushed lunch. The importance of pit stops is that you can clear your head. And as work study practitioners, we should also mention that sitting in front of a screen all day is not that good for your health. Especially if you do not have an optimal workstation.
Advice: take a 5 to 10-minute break every hour. Do not stay at your workstation. Short breaks are better for you than a limited number of longer breaks. The breaks present themselves when you use the Pomodoro technique.
9. Keep your work and private life separate
It is essential that you keep your work entirely separate from your private life. When you are at your workstation, you understand you are there to work. It will help to stop thinking in terms of "I'm working from home", and rather "I'm busy working" instead. If you need to be available via a land line, ask your employer for a separate telephone number.
10. Ensure a well-regulated space
A temperature-regulated space with sufficient (day)light, ventilation, and the possibility to carry out concentrated work are fundamental for your person-oriented workstation.
Any questions?
Then contact us with no obligation so we can discuss how we can assist you.